We provide purified custom peptides with an extensive range of modifications. Listed below is a range of the more common modifications. This list is by no means exhaustive and we will be happy to quote on synthesis of peptides with more specialized modifications. Some of the modifications can be also be applied to peptides in our high-density custom peptide microarrays for screening of epitopes for antibodies and other peptide ligands.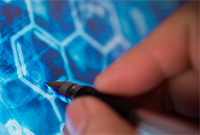 C-terminal amidation, methylation, pNa (Anb), PEGylation
 N-terminal acetylation, formylation, PEGylation or pyroglutamylation (pGlu)
 N-terminal biotinylation with or without spacer, biocytin on internal lysines and as C-terminal residue
 Fluorochrome labelling on N-terminal or via side chain of internal residues
 Synthesis of Ocam-ester peptides for enzymatic ligation using e.g. Omniligase
 Incorporation of Abz and nitro- tyrosine/phenylalanine
 Cyclization via disulfide bridges or using click chemistry
 MAPS and other peptide dendrimers
 Conjugation to carrier proteins
 Conjugation to fatty acids
 Peptides on hydrophillic beads
 FRET peptides (Dabcyl/EDANS, Dnp/Mca, TAMRA/FAM etc.)
Please contact us for a communication about the possibilities for production of these and other peptide modifications.